Setting up & sending messages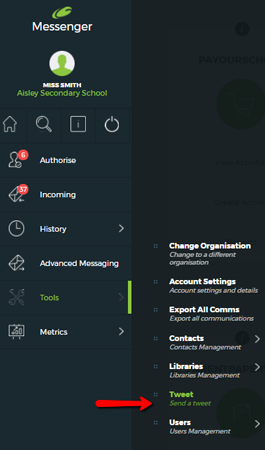 Click image to expand.


1) Go to

Tools, then Tweet from the side menu.



2) From the Tweet page, click Add Twitter Account.
3) To begin the Twitter integration, click

. You will then be taken to Twitter's authorisation page.
4) If you are already signed into your school's Twitter account in your web browser, you'll just need to click Authorize app.
a. If you are not sure whether you are logged into the correct Twitter account, hover your mouse over the avatar in the top right corner to display the name of the account.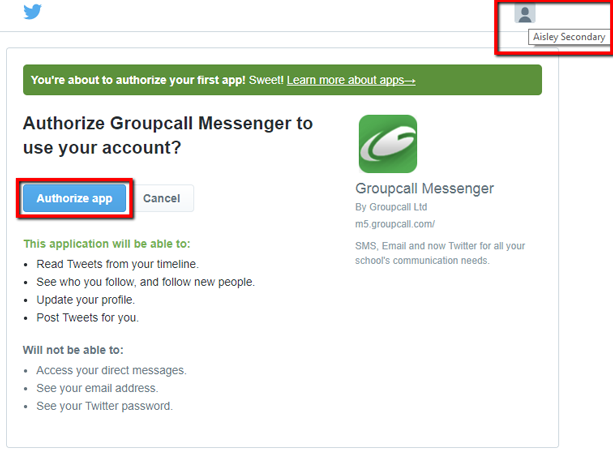 Click image to expand.


5) If you aren't already logged into Twitter, you will need to enter your school's Twitter credentials, then click Authorize app.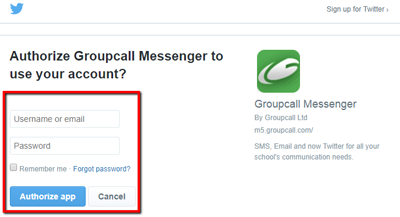 Click image to expand.


6) After a few seconds, you will be redirected back to the Tweet page in Messenger. Authorisation has been successful if you see the following page:




Click image to expand.


a. Type a message in the speech bubble and click Tweet. Doing so will post the message directly onto your Twitter timeline.
---

Top Tip: Tweets need to be under 140 characters, so keep your message short and sweet!
7) To delete a tweet, you will need to access it directly from your Twitter account and click on the small arrow next to the specific tweet you wish to delete:
a. Deleting the tweet will also remove it from your Tweets history in Messenger (this may take a few minutes to reflect in Messenger).


Click image to expand.
Unlinking Twitter account from Messenger
If Messenger is linked to a Twitter account that is no longer being used, you will need to follow the steps in this this Twitter guide (scroll down to How to revoke access or remove an application) to unlink your current Twitter account from Messenger.
Once you have done so, you can follow the previous steps to link Messenger to a different Twitter account.