Your school data is automatically synced from Messenger to Parents' Evening Booking System. To ensure that Parents' Evening Booking System works successfully for the school and parents, it is important to maintain contact information in your MIS. Group data will also be pulled across, but this does not include any Saved Groups that you have created in Messenger.
If your Messenger account has access to PEBS, you will see the Parents' Evening tile from your Tiles (Homepage). If you don't see this from your Messenger, contact your school administrator to check your permissions.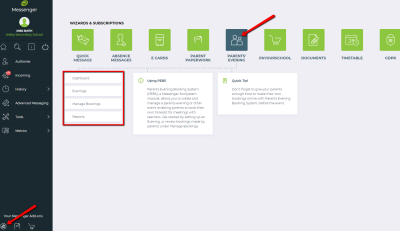 Click image to expand.
The main features of Parents' Evening Booking System can be accessed by clicking: Dashboard, Evenings, Manage Bookings, or Reports from this tile. Clicking on any option will take you to the relevant feature within the PEBS interface.


Dashboard
Evenings
Manage Bookings
Reports

View PEBS Homepage.

Access all Help Videos.

Access all features.

Take the training tour.

Create a new term/group (event).

Edit existing events.

View existing bookings.

Email appointment reminders to parents.

Cancel selected appointments.

Cancel all appointments.

Print appointment lists.

View reports for both previous and forthcoming events.
Parents' Evening Booking System Interface
Additional features such as Setup School, Upload Data, Parents and Teachers can be accessed via the side menu on the left, or from the top panel of tabs on every page within Parents' Evening Booking System.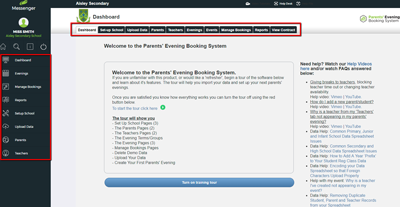 Click image to expand.


To leave Parents' Evening Booking System and return to Messenger, just click on the

Home icon from the top of the side panel on the left.
If you are a first time user, click Turn on training tour from the bottom of your Parents' Evening Dashboard. This will always be visible from the Dashboard, should you ever need to refresh your memory. You can also access the PEBS Help centre from the panel on the right of your Dashboard.
Additionally, the

Video Tutorials,

Help Desk, and

Help File (Google document) will be visible at the top of every page within PEBS. You can click on the Help Desk to view all guides and to get in touch with the PEBS Support team if needed.
Parents' Evening Booking System has been built to be very easy for parents to log in and book time slots with teachers. However, you can provide parents with short video tutorials by asking them to visit: parents-booking.com/instructions-for-parents/. Alternatively, click here to find out how you can embed a step-by-step help guide on to your school's website.