In order for parents to use Xpressions, both their mobile number and email address will need to be stored correctly in your MIS. Both pieces of information are used to create and verify accounts for parents.
If Parent relationships are not defined in your MIS, then recipient selection (in Messenger) will fail as the system will not be able to identify to which contacts the messages should be sent. To clarify, parents that are also staff at your school will need their parent record linked to the student.
Parents need to have Parental Responsibility in your MIS.
---

Top Tip: You can perform a Data Validation check in your MIS where possible to highlight any system detectable errors, e.g. people with the same name, to maximise the effectiveness of your data.
Data Quality Reports
Xpressions uses the same contact information for parental contacts that are pulled through to Messenger. You can use the Data Quality Reports in Messenger to identify any missing or invalid contact information for parents. Reports that would be specifically useful are:

Contacts without an Email Address
Contacts without an Mobile Number
Contacts where Email has Failed Previously
Contacts where SMS has Failed Previously
Contacts with a Malformed Email Address
Contacts with a Malformed Mobile Number

For more information on how to run these reports and export the data into an Excel file,

click here

.
Phone numbers
To ensure your MIS data is effective, ensure that the phone number location for parental contacts is set as mobile in your MIS.
Messenger and Xpressions will not recognise that Home numbers as a valid SMS and Xpressions recipient, even if it is the number for a mobile phone. For example, SIMS schools will need to ensure that Mobile is selected for the Location field: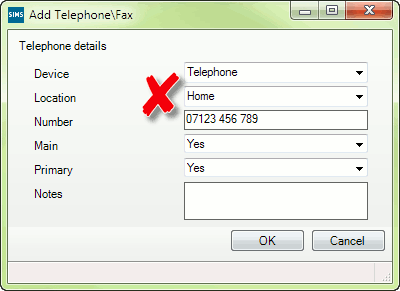 Emails
Emails will only be recognised by Messenger and Xpressions when stored in the correct format: ID@domain.tld (e.g. jbloggs@gmail.com,

jbloggs@school.sch.uk

).
Emails that are not stored in the school's MIS in the correct format won't be pulled across.
School photos (SIMS only)
If your school has signed up to Enhanced Xpressions (SIMS only), parents will be able to see their student's school photos upon logging in.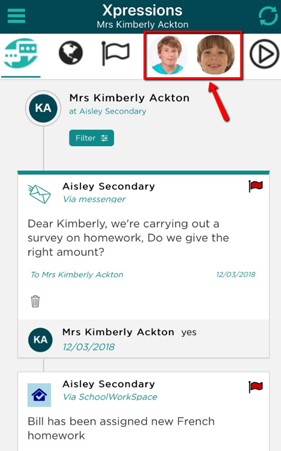 In the case of parents with multiple children, the image based interface relies on student photos to make it as user friendly as possible.
When viewing the timeline, the photos make it easier for parents to filter messages to their child or to a type of message such as Homework Notifications.
Siblings
Parents of more than one child will see all siblings from the same Xpressions account.
If a parent has children that attend different schools, all schools will need to ensure that the same email and mobile number is being stored for that parent.
It is essential that contacts exist as single records with correctly configured relationships for Xpressions to get the most out of your MIS data.

For example, a student called Ben with a sister called Amy and a mother called Liz should have Amy linked to his MIS record as his sister and his Mother as Liz;
Amy should have the same contact record for Liz linked to her as mother and not a duplicate record as well as having Ben linked as her brother.
In this example there should be 3 records consisting of 2 students and 1 contact.