There are a number of ways to use the Search Panel to select contacts: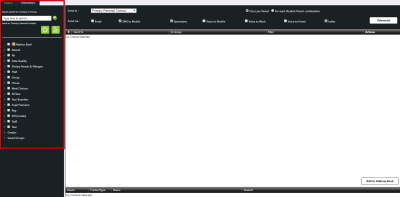 Click image to expand.
1) Use the Search Bar from the top left to search for teachers, students or class groups (both MIS Groups and Saved Groups).
a. Start typing a name or class code and you will see a list of possible choices appear below.
b. When you have added all the groups or individuals you require (they will be listed in the search box), simply click

Add To Recipient .


2) Alternatively, to send out a message to a more specific group, filter students and staff by using the groups listed in the panel located to the left of the page.
a. Click on the group folders to expand to the sub-groups and select or multi-select those required.
b. After making an initial selection of recipients, your contact selection can be further refined using filters. Accessed by the blue hyperlink in the Actions column, filters are used to refine sub-groups.
c. For example, to send a message to students that are in Year 8 and Year 9, first select both groups via the list of Year Groups shown above in the Search Panel. You will then see the following results from the middle of the page:


Click image to expand.
From the Actions column (far right), you can filter these groups even further if required. From here, you can narrow down the Year 8 and 9 students by another sub-group. For example, if you only want to send a message to the female students in Year 8 and 9.
d. If you then wish to add more recipients from other groups you can do so by clicking on another group and again apply filters by following step c.
e. Once you have selected the group you wish to contact, you will see a list of their parental contact information appear across the lower half of the page. The contact information you see here has been populated from your MIS. If anything looks amiss, please update this information in your MIS.


3) Select a Contact or Saved Group from the Address Book.
a. Used for adding recipients who aren't, and should not otherwise be, included in your MIS database but may still need to receive messages in case of emergency or to be updated in general; for example, school governors. Contacts who join the school, and would be part of your normal database, should be added to your MIS and will then automatically be updated through the integration schedule.
---

Top Tip: Groups, sub-groups and filters are dynamic and will only display the options available in your MIS database, or display a list of contacts from which you can select individuals. Any filters active will be displayed in the filters column.
How to contact recipients
Once you have created your recipients list, you'll need to use the bar at the top of the panel to choose how you wish to send out your message.
You can tick more than one message type from the Send via option, e.g. SMS to Mobile and Email.


Click image to expand.
Email: if the message recipients have an up to date email address in your MIS, sending your message via email is a great option as it's free, and perfect for sending longer or more complex multimedia messages e.g. school newsletters, certificates. As we can't assume that all parental contacts check their emails very regularly, this may not be the best option if your message is an urgent one.
Please ensure the following checks before sending emails:
Check that email addresses are properly formatted in your MIS: ID@domain.tld (e.g. jbloggs@gmail.com, jbloggs@school.sch.uk)
If the email is not in a valid format the system will not recognise that address.
If the system encounters an error with an email address that is properly formatted, but is not legitimate (i.e. does not exist), the message will be sent by Messenger, but later rejected by the receiving domain.
SMS to Mobile: for recipients that have a mobile number in your MIS, you can send a message to them via SMS (text message). We recommend choosing this option where the message is urgent or where parental contacts don't have internet access.
If the phone number type/location is not set as mobile in the MIS, Messenger will not recognise that number as a valid SMS recipient, even if it is the number for a mobile phone.
Xpressions: if parents have signed up to Xpressions, you can choose to send them your message as a push notification. This will method is free of charge for the school, and ensuring that parents have set up their Xpressions app correctly, will send parents immediate notifications.
Please ask parents to make the below checks for their Xpressions App:
Make sure parents are signed into Xpressions on their mobile devices.
Ensure that parents have the latest version of the app, and keep it updated.
Notifications need to be turned on in their mobile device.
Voice to Mobile/Work/Home: it may be easier to contact some parents via voice message rather than by SMS or email. In this instance, your typed message will be received by recipients as an automated voice message.
Letter: if you need to print a copy of your message to distribute or post, choose this option. Doing so will format your message in a Letter template, including your school's letter heading.
---

Top Tip: By default, voice messages will be sent only to contacts that do not have a mobile phone number - i.e. if a contact has both a landline and a mobile phone number, SMS will take priority over voice messages. However. this is a customisable option in the admin area.
Messenger provides you with the ability to easily choose the method and the contacts to whom messages will be sent. You can elect to send the messages to different types of contact held within the system, based on your intended audience:
Primary Parental Contact: send messages to Priority 1 contacts only. The priority/ranking level is dictated by the settings in your MIS.
Student Direct: send messages directly to students (where relevant contact information exists). You could use this option for emails only to email students with e.g. homework information.
All Parental Contacts: send messages to both primary and additional parental contacts for whom correspondence is allowed (as per the data in your MIS).
All: send messages to all contacts associated with a student's record, i.e. to the Student Direct and any parent(s) linked to their record.
Primary Parental and Student: send messages to the Priority 1 contact and the student (where contact information is stored for them in your MIS).
Parent by Priority: narrow down the parental contacts will receive the message. Choosing this option will reveal another drop down menu. From here you can tick all of the priorities you wish to receive your message.
You will also need to determine the message frequency:


Click image to expand.
Once per parent: if you have parents of siblings that are in the group you are corresponding with, choose this option to ensure that parents will only receive one message from your school. This preference should be selected when you are sending a general message that won't include the child's name (e.g. as an alert for school closure) and isn't personalised to any one sibling, for example a whole school message regarding bad weather arrangements: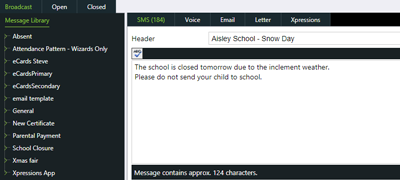 Click image to expand.
For each student/parent combination: choosing this option means that parents of any siblings in the list of recipients will receive your message as many times as they have children. You should choose this option if your message has been personalised for each student. For example, if the message is an absence/lateness alert, you must choose this option, as the parent will need a message for every child that has been absent or late: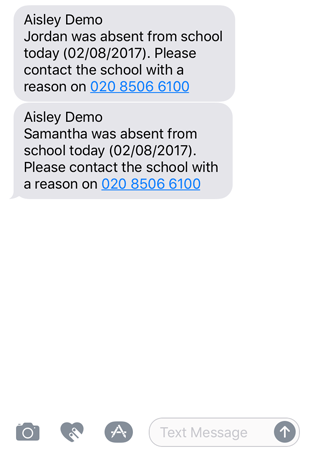 Click image to expand.
How to write an SMS (text message)
Select SMS (text message) as the message type and click Next (located in the top right corner) to begin formulating your message.
From the next page, you can either select an existing template from the Message found via the left panel), or you can create a new message from the text editor located in the middle of this page.
First you will need to select the type of SMS you wish to send: Broadcast, Open or Closed.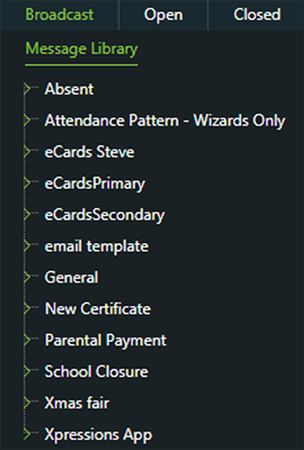 Click image to expand.
Broadcast:

Recipients will not be able to reply directly to this message. Clicking on Broadcast will display the relevant templates for each type of message.
Alternatively, if you wish to write a new Broadcast message from the text editor in the middle of the page, you should use this type when making general announcements. For example, 'There has been a school closure due to the weather. We will keep you updated on this.'
Open:

Message recipients can reply back with text of their choosing. As per all the SMS message types, clicking on Open will display a list of existing templates that would require parents to be able to reply.
When writing a new open message, you should use this when you need parents to reply back to you via SMS. E.g. 'Please provide a reason for your child's absence from school today.'



Closed: Recipients will have to select from an answer as provided by you. E.g. 'Please confirm your child's lunch requirements for the school trip. Reply 1 for no dairy products, 2 for vegetarian, 3 for no adjustment needed'.

If you choose this option, you will need to ensure that you enter or confirm the

Options

(indicated by the arrow) from the panel on the left when drafting a new message:




Click image to expand.
---

Top Tip: In order to use Open and Closed SMS messages, you will need to have already purchased an incoming mobile number from Groupcall. For more information about this, please click here to contact Customer Care.
Formatting a new SMS message
Tokens (Merge Fields): To insert a token for personalised contact information for an SMS message, simply right-click anywhere in the textbox and select the field you wish to enter. Tokens are essentially mail merge fields and will allow you to really personalise your message.






Character Limit: SMS messages should be under 160 characters in order to be charged one unit per customer. This includes the Header. If your message goes over this amount of characters, the text will turn red to let you know.




Click image to expand.
Translation: Once you have typed out, or selected, your message you can tick Translate Message if recipients do not speak English as a first language. You will notice that it is possible to send the message in English as well. Sending English versions to accompany translated messages will use additional units for SMS messages.


Save to Library: To save a new message, click this option from the top right of the page. Please ensure that you enter a recognisable header.
How to write an Xpression message
This method is exactly the same as the steps for writing an SMS message.
After formatting your message in the SMS text editor, you can also add attachments free of charge to your Xpression. Simply click on Xpressions from the top of the panel and Choose file.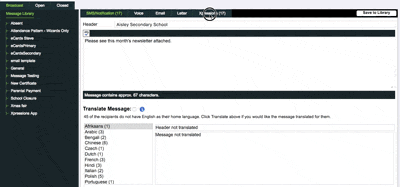 Click image to expand.
To view a full guide to Xpressions

and how it can work for your school community,

click here

.

Once you have sent an Xpressions message, a push notification will be created, along with the actual message that will be displayed in the Xpressions Timeline. For further information on how notifications and timeline activity,

click here

.
If you have selected Email as the message type you wish to send contacts, you will be presented with a more advanced text editor than for an SMS:




Click image to expand.

Formatting a new email message
Email content the same as SMS: Clicking on this option will display the text editor box that you would see when typing a new SMS. However, if you are just sending emails to recipients, you should untick this box to allow more than 160 characters to be typed into the body of the email.


Switch to Basic Editor/ Advanced Editor: Click this option to be provided with more or less formatting options for your email.





Click image to expand.
Tokens: If you are writing a new email, you can insert tokens via the Insert Fields drop down menu instead. Tokens are essentially mail merge fields and will allow you to really personalise your message.


Click image to expand.
Save to Library: To save a new message to the Message Library, give your new message an appropriate header and click Save to Library (located in the top right corner). If you don't wish to save your message, don't worry - you can still view it after it has been sent from the message History located on the left side menu.

You can tick Translate Message if recipients do not speak English as a first language. You will notice that it is possible to send the message in English as well. Please

click here

for further information on how to translate your message.
Letters:

For parents that don't have email addresses in your MIS, you can select the option to print the email as a letter to be sent home.
Modify Translations: Messenger translations are handled by Google Translate. This option allows you to update any of the translations, perhaps if you have a native speaker on hand.
Reset Translation: used to update the translation to match the text in the compose window. Make sure to click Reset Translation if you make any changes to the composed message in either the SMS or Email view.



Click image to expand.
Before your message is sent, you'll have a chance to review it. You will also be able to choose whether to send the message now or schedule a more suitable time for this message to be sent.
From the panel on the left, you will see a Summary of the recipients, how the message will be sent, and contacts in your recipients list that will not receive the message.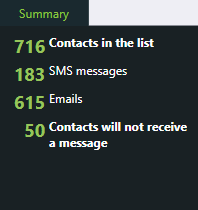 Contacts that will not receive a message: this means/indicates/highlights that some contacts do not have up to date contact information coming through to Messenger from your MIS.
To reduce costs further, you can change the routing so that SMS messages are only sent if an email (or push notification) cannot be. Simply choose the Least Cost option.

You will also

be able to preview your message before you send it. This is particularly useful for messages where you have selected will look in different formats (e.g. SMS compared to email)

.

Enter your mobile number or email in t

he fields on the left to have a preview sent to you.





Send now/ Schedule the messages: if required, your message can be scheduled to be sent at a specified time and date in the future.


Click image to expand.