1) To top up a student's cashless balance for parents who have paid in cash or by cheque, click Payments by Cash from the Menu at the top of the page.



2) From the Students panel on the left, type in at least the first 3 letters of a student's surname and click A list of students matching your search will appear in the panel on the left.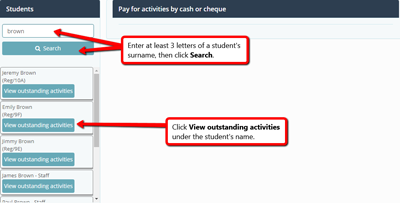 Click image to expand.


a. Scroll down the list of results to locate the student you wish to update, and click View outstanding activities under their name.
1) Now that you have located the student you wish to update, you will be able to top-up to their cashless balance.
2) Under the Pay now? column, toggle Yes next to the Lunch activity.
3) The Amount to Pay column will display the recommended amount that was set when the Lunch activity was created. If the parent has paid more or less than this amount, enter the correct amount in this field.
4) From the options underneath, click on the Payment Method drop down menu to choose from: Cash, Cheque or BACS.
5) Click Pay and Print Labels.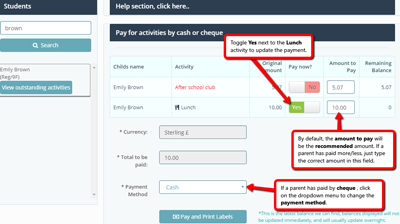 Click image to expand.

Upon a successful payment, you will be brought to the Payment Receipt page where there is the option to print the receipt.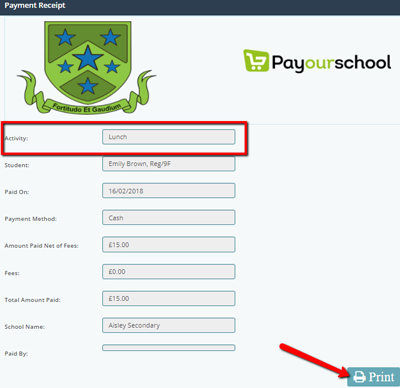 Click image to expand.