To visit
Emerge Desktop
, go to
emerge.groupcall.com
from your internet browser. If you have signed up to
Messenger
and
Xpressions
, you will also have access to the relevant features from the menu bar located on the left.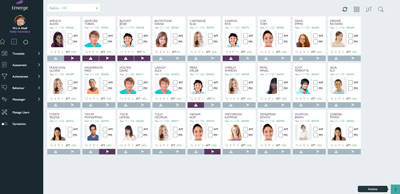 Click image to expand.
The Emerge Desktop view is easy to use and includes an introductory guide that will walk you through the key features of the page. To begin the interactive guide, click the

symbol from the side menu on the left, then click

Play intro.



From the Dashboard, you can take attendance for your classes, view student information and search for individual students or classes.
Attendance: take attendance for your group from your dashboard via Actions (from the bottom right).
Student Details: produce an in-depth view of individual students, including their overall attendance, behaviour and achievement points, as well as their exam timetable and reports stored in your MIS.
Search: use the search function from your homepage to locate and view other classes or students at your school.
From the top right corner, there are a number of icons that give you the option to adjust what you see on your Dashboard for the group you are viewing. Hover your mouse over each icon to check its functionality.



Refresh: If any data has been updated in Emerge, e.g. Attendance or Points, click

Refresh to update the student tiles and display any new information.
Layout: click

Layout to display a condensed version of the student tiles. There are 3 types of layouts that you can choose from.
Max tiles: a display of student photo, any flag or student alert icons (e.g. FSM or any unauthorised absences) displayed to the right of the student's tile.
Standard tiles: mostly the same as above, however you will need to click on the alert or flag icon to view this information for a student.
Minimum tiles: a condensed display of the students. Any flags, alerts, points and attendance are hidden. This view is recommended if you are projecting your screen to the class/ an audience.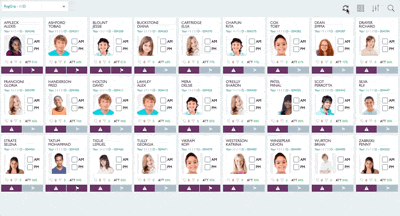 Filter: to display students meeting a certain criteria from a class, click

Filter and choose from the list of Alerts and Flags (multi-select is possible). Hover your mouse over each icon to see its functionality. Once you have selected the required filters, click

.



Search: click

Search to locate individual students or any class at your school. For a more detailed guide on this feature, please click here.
By using the menu bar on the left, you can access other features of Emerge. Click on the relevant user guide to find out more.
The student tiles displayed for your groups will give you a quick burst of information for each student. You will see Tiles every time you view a group in Emerge Desktop. Clicking anywhere on a tile will open up the Student Details in full. Depending on the tile layout you have chosen to view, you will see the following information for each student.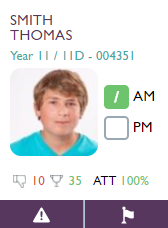 Name, Year Group, Registration Group, MIS ID. Regardless of the group you are viewing, the student's tile will always display their Registration Group.



School picture, Attendance mark (AM/PM). The attendance marks for each student will be displayed for AM and PM registration sessions.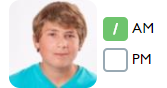 Behaviour and Achievement Points, Attendance as a percentage (for the year).



Student Alerts, Flags. Both will be highlighted purple if there is information to notify you of. Simply click on the icon to view more information. If there are no alerts or flags for this student, the icons will be greyed out.

Student Alerts: you will be alerted if the student has been given any points, or if they have been marked as absent this week.
Flags: this includes important information such as FSM, Dietary requirements/ Allergies, Pupil Premium or SEN status.