To allow your software provider to automatically sync data from your MIS using XporterOnDemand, you simply need to provide authorisation.
Before you can provide authorisation, you will need to have registered your school with XporterOnDemand. Please follow the XporterOnDemand: Registering Your School guide if you need to do this.
Your software provider will have given you a data sharing authorisation link, this will be the same link that you used before you registered your school. After clicking the link, you will arrive at our login screen. You will need to use the account you created when you registered your school.
Enter your ESTAB- username and click Next.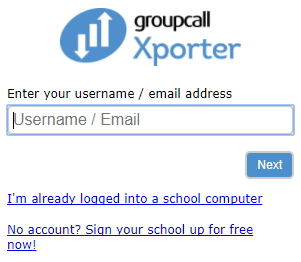 You will then need to enter your password and click Next.
The below steps will walk you through the 3 stage process to authorise your selected application:
Step 1:
We will show you a summary of the data areas that the software provider is requesting: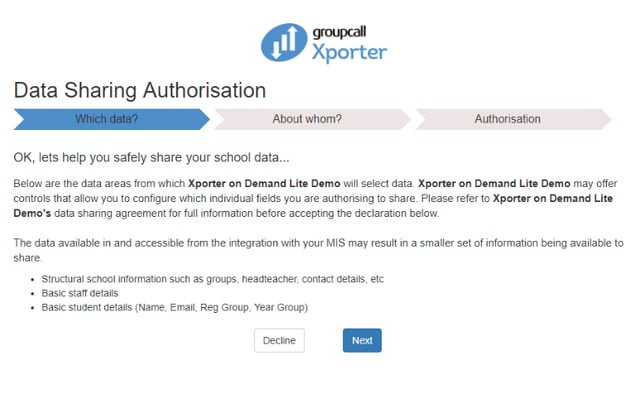 Carefully read the information so you know what is being requested, and click Next to continue.
Step 2:
You will now need to choose how you want to share data with the software provider.
The default Sharing Mode options are:
"Opt Out" (Everyone included apart from specific individuals you manually exclude) and
"Opt In" (No people are included apart from those individuals your specifically include).
You should choose the mode you deem appropriate. This can be changed later in the school portal if you change your requirement.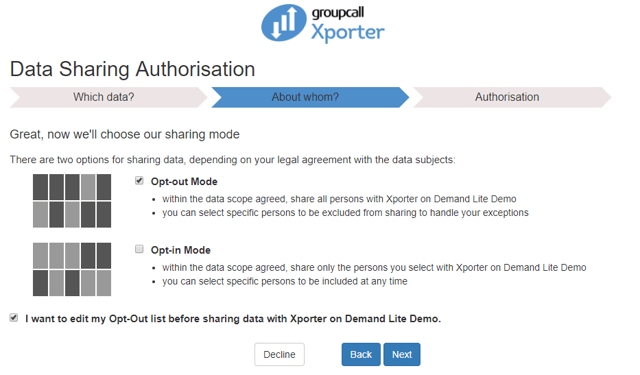 When you select the Sharing Mode, an additional option will appear. Select this option if you wish to exclude or include specific people before the software provider can access your data.
Click Next to continue.
Step 3:
The final step is to provide authorization to your software provider: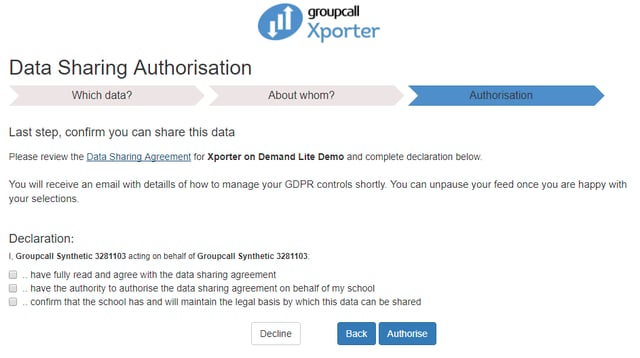 Clicking Authorise will securely send a secret key to your software provider to allow them to access the data that is laid out on first step of the Data Sharing Authorisation process.
If you chose to manage your Opt Out / Opt In selections on the previous step, you will receive an email directing you to log into the School Portal. Remember to Activate the Data Feed for your software provider when your selections are complete.
You are now all setup with XporterOnDemand!
For any future software providers using XporterOnDemand, you will simply need to follow their data sharing link and agree to their sharing request in the same way.
For any queries regarding the data requested, please contact your software provider in the first instance.