Getting your MIS Ready for Xporter
To connect to your MIS, Xporter usually needs to be provided with a user account with certain permissions or some "API" details.
"API" details usually consist of a URL (website address) and a username and password. Sometimes it might be an "API Key" instead (a long list of letters and numbers).
Before you install Xporter, it is a good idea to have these details ready to go so you can finish the installation all in one go. Sometimes you may have to request these details from your MIS provider.
Installing the XporterOnDemand Client
You will be provided a link to download the installer once you finish your registration. However, if you have closed this window or moved to another machine without getting the setup file, you can visit:
Please note, as Bromcom is a web based MIS we can host XporterOnDemand for you at no cost. If you wish to set this up please contact our support team for further instructions. If you would prefer to host XporterOnDemend yourselves please continue with this document.
Best Install Location: Application Server
Required Software:
Microsoft .net Framework 4.6 with Windows Updates applied
User Details Required:
Groupcall System User account set up in Bromcom with the Third Party option ticked.
e-Setup > Security > System Users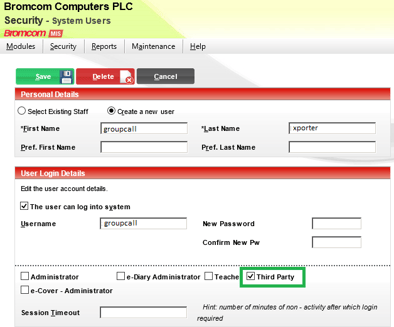 Download and run XporterOnDemand_Setup.exe. Then select your installation folder and click

Next.



Confirm the installation folder is correct and click Install.

The installer will now download any updates required and unpack the data to the installation folder.

The technical contact details are not required, if you do not wish to provide this information please leave the fields blank and click Next.

We recommend you do provide contact details for ease of communitation in the event of any technical issues. We will NOT share your infomation with anyone outside Groupcall Ltd.

Select Bromcom as the MIS you are currently runing and click Next.

Confirm Bromcom is the MIS system you are using and click Install.

Enter your Bromcom School Id and the Web Service URL. Unless hosted locally the URL will be:

https://cloud.bromcom.com/Nucleus/WebServices/ThirdParty/TPReadOnlyDataService.asmx

Once details are entered click Login.

"Connected Successfully to School" will be displayed. Or a relevant error message. To continue click Next.

The Cohort Year Details are not essential for XoD however they will be required if you use our identity platform (IDaaS) in the future. The details can be added later via the Xporter console. To continue click Next.

Please fill in your XoD user credentials provided during the XoD registration process and click Connect.

If the connection is successful a green Connection Completed message will be displayed. To continue click Next.

The installer will now download, unpack and run the scripts required for setting up the XporterOnDemand tasks.

Groupcall XporterOnDemand is now installed and running. To close the installer click Finish.